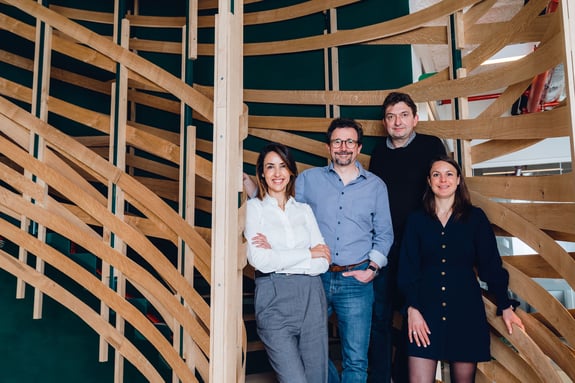 ABOUT US
Setting new standards with predictive building control.
"The future needs a net carbon-free society"
Natural resources are limited, and climate change mitigation imposes clear goals for worldwide CO2 emission reduction by 2050. Energy efficiency will play a crucial role in meeting the short-term goals because global emissions are still growing despite our efforts to replace fossil fuels with renewable sources.

A transition is required in all domains and layers of our society. This transition incentivises radical innovation, the spark for positive change. Shifting towards a carbon-free society is an opportunity to stimulate our economy and create more social equality.
"Applying Data Analytics and Predictive Control to reduce CO2 emissions and energy consumption while maintaining comfort to users, improving operational efficiency and optimizing the value of assets."

Energy use in buildings is a crucial contributor to global CO2 emissions. Even in new and modern buildings, inadequate control and operation often increase energy use by 20%. dnergy® has developed predictive control algorithms that drastically change how buildings operate. Our innovative solutions improve thermal comfort for the occupants, create control transparency for operators and allow buildings to interact flexibly with the grid. We know the means and commitment to set new standards for building performance.

We aim to make our technology widely available and contribute to the energy transition, with a win-win for all stakeholders. dnergy wants to make a difference.
MEET OUR AMAZING TEAM
At dnergy, we take pride in our work and strive to achieve our goals as a team, creating a culture of productivity and success.
Our History
How DeltaQ started and now
Since the early years, DeltaQ has always been committed to its core values and mission while continuing to innovate and adapt to changing market conditions. Today, DeltaQ is a key player in a rapidly evolving business landscape by embracing change and staying true to its roots.
SINCE 1999

Building consultants
As building consultants and energy experts at 3E, we witnessed first-hand the large optimisation potential of building controls.

2010 – 2015

A PhD in Model Predictive Control
3E and KU Leuven jointly financed the PhD of Roel De Coninck on Model Predictive Control

2016 - 2017

Further R&D supported by the Walloon Region
3E continued R&D on Model Predictive Control supported by the Walloon Region (Flexipac & Batterie project)

Mid-2017

Start of commercialisation
First steps in commercialising "SynaptiQ Building" (work name concerning 3E's SynaptiQ Solar & Wind products). Sodexo Belgium is our launching customer.

Mid-2018

Acknowledged by the European Commission
Acquisition of a 2.5 M€ grant from the European Commission (under the Horizon 2020 programme) to scale our technology and business.

2018 - 2019

Building the team
We grew the team from 3 to 11 employees to date. We continue attracting new talent and expanding the team with partners across Europe.

Mid-2019

Launch of DeltaQ
As the new product name, brand and future company.
"The real estate sector is under much pressure to reduce its CO2 emissions. We are a natural partner to help our customers towards net-zero carbon with our triple strategy."